Business cooperation expands with India
Economy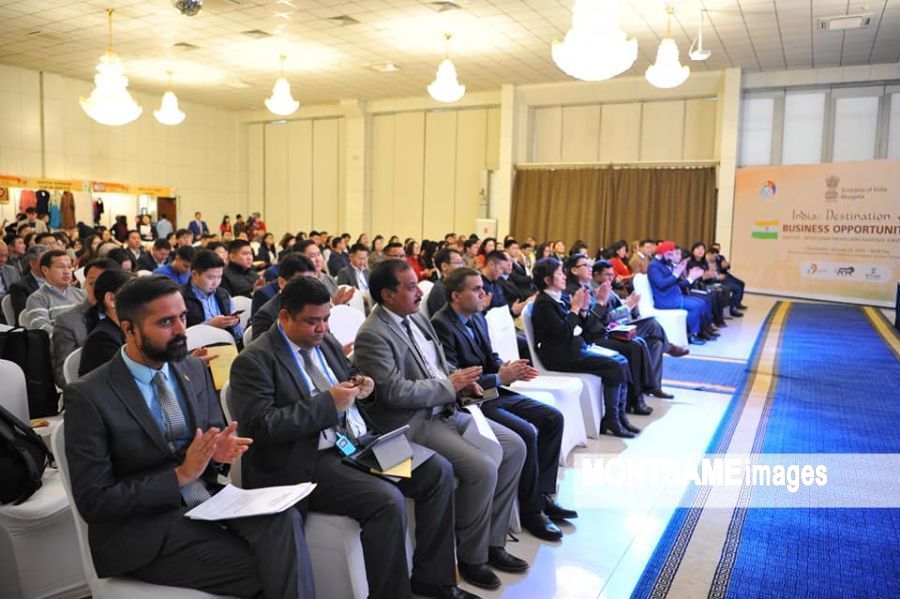 Ulaanbaatar /MONTSAME/ More than 200 businesses took part in Mongolia-India business forum 'India: Destination of Business Opportunities' that took place yesterday, on January 20 within the framework of the 65th diplomatic anniversary between Mongolia and the Republic of India.
Spiritual neighbors-Mongolia and India mainly partner in the areas of agriculture, information technology, medicine supply, heavy industry and food. Trade turnover between the two countries grew up by 40 percent or reached USD 52.7 million in 2018, which was USD 32 million in 2017. Whereas, it showed a decrease to USD 38 million in 2019.
When Mongolia joins the Asia-Pacific Trade Agreement (APTA), officials consider that economic cooperation between Mongolia and India would be expanded sustainably.
Deputy Director of Foreign Trade and Economic Cooperation Department of the Ministry of Foreign Affairs T.Battsetseg said that both countries are members of the World Trade Organization. Member states of the organization are enabled to enjoy relief from customs duty through mutually establishing free trade agreement. In December 2019, the Parliament ratified a resolution on joining the Asia-Pacific Trade Agreement and the decision will come into effect from July this year. Besides India, countries such as China, South Korea, Bangladesh, Laos and Sri Lanka joined the agreement. Therefore, our entities will have possibility to export over 10 thousand types of products to these countries with 30-40 percent relief from customs duty. In response, Mongolia will give 10-30 percent preference on customs duty on 390 types of import goods from these countries, which do not manufactured in Mongolia or produced with high costs.

"Since the bilateral high-level meetings, Indian business owners are having huge interest in Mongolia. It is important for us to increase export and attract investment in order to expand our economy. Currently, a project worth USD 20 million for setting up training base for preparing IT specialists and another project worth USD 30 million for building pharmaceutical factory have been launched in Mongolia," said O.Amartuvshin, President of the Mongolian National Chamber of Commerce and Industry.
Ambassador of India to Mongolia M.P.Singh pointed out that bilateral cooperation has been intensifying in recent years. In particular, construction of the first oil refinery in Mongolia will commence this year with financing of USD 1.23 billion soft loan of India. In frames of training working force of the oil refinery, 40-50 Mongolian students will study in India with scholarship and the sides are focusing attention on having the specialists ready when the refinery puts into operation in 2024. Construction of a training base for communications and IT, and Cyber Safety Training Center will begin this year as well. India set a goal to increase its steel production 2.5 times. Within the scope of it, we are discussing about exporting Mongolian coking coal, which is considered high quality coal in the world, passing through the Russian Federation. Last year, delegation of three largest steel production companies of India arrived in Mongolia and met with corresponding officials. I am confident that the work would be intensified.
Although Mongolia imports medicines, pharmaceutical preparations and hospital equipment and devices from India, domestic manufacturers began working to introduce Mongolian medicines into Indian market.
President of Monos Group Ch.Khurelbaatar said that India leads the world with its development of Ayurveda or traditional medicine. Indian drugs and preparations have intensively introduced in Mongolian market since 1980. Monos Group is importing over 80 types of medicines, preparations and hospital equipment from 6 Indian pharmaceutical companies. Concurrently, we are working to make Mongolian medicines and preparations known to the second largest pharmacy market in the world. In frames of it, in partnership with Dabur, India's largest Ayurvedic medicine and natural consumer products manufacturer, we are conducting researches on Indian market and medicines that have potential to be exported.